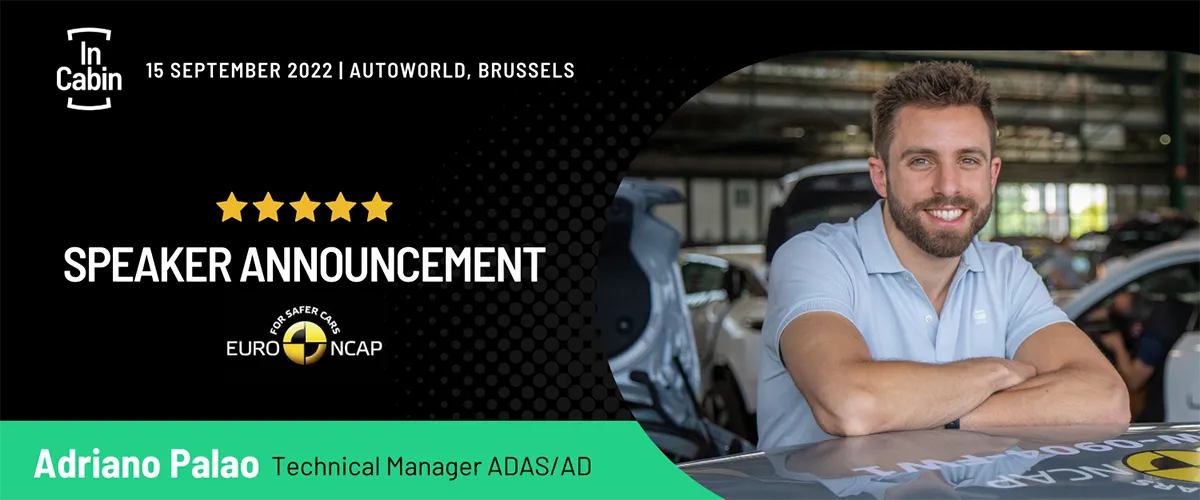 Our First Keynote Speaker at InCabin September 2022 – Knowledge and connections for automotive in-cabin technology specialists.
Euro NCAP has created the five-star safety rating system to help consumers, their families and businesses compare vehicles more easily and to help them identify the safest choice for their needs.
The five-star safety rating system continuously evolves as older technology matures and new innovations become available. This means that tests are updated regularly, new tests are added to the system and star levels are adjusted.
The latest star rating is always the most relevant and comparing results over different years is only valid if the updates to the rating scheme were small. Recently, the inclusion of emerging crash avoidance and driver assist technology has significantly altered the meaning of the stars.
Euro NCAP was represented at our brand new InCabin event in September 2022 by Adriano Palao Bernal, who took the role of Technical Manager ADAS/AD at the beginning of the year and will be answering questions about what needs to be done to achieve a 5-star rating, and much more.
Adriano has 9 years of experience in Automotive Engineering, within the Testing and Validation domain. After completing his Bachelor's and Master's degree in Mechanical Engineering by Universidad Politécnica de Valencia, he worked for Nissan Motor Corporation, Applus+ IDIADA, Punch Powertrain, and Mitsubishi Electric.
If you like what you read, join us in Phoenix this March to find out more about Automotive interior intelligence.