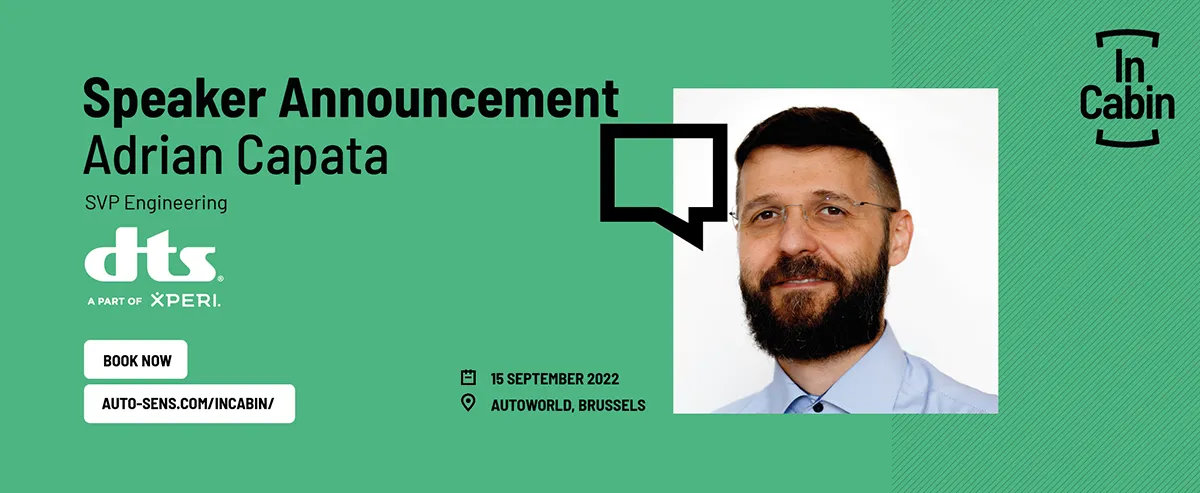 We spoke to Adrian (Adi) Capătă who leads the in-cabin sensing product line for DTS/XPERI.
  

Adi was one of our keynote speakers at InCabin in September and he covered the importance of user experience enablement in in-cabin sensing, on top of regulatory needs.

 

As Senior Vice President, Engineering at DTS/XPERI, Adi is accountable for anything from product vision and strategy to execution, taking an innovative idea through all the steps needed to become a reliable software product, from incipient research to deployment on customer platforms.
What is DTS/XPERI's current focus with respect to in-cabin sensing?
DTS/XPERI sees in-cabin sensing as a holistic solution, which enables use cases both around safety and user experience. There is a vision that the cabin becomes a space where, the users, who are now called drivers and passengers, but, may in the future only be called passengers, will have more and more time to do other things, aside from executing the driving, and the car needs to become more and more intelligent to understand and even predict their intention. As "there is no place like home", DTS/XPERI believes that "there is no place like my car". This is why their aim is to enable never seen before in-cabin experiences, combining sensing with entertainment, and fundamentally rethinking the in-cabin as a third space. 
What is the biggest consideration for this market currently?
One current key consideration is regulation, since automotive is a market driven by heavy regulations. Whilst of course keeping an eye on costs, since OEMs need to find the sweet spot between regulatory demands, what user experience can bring differentiation and feedback within a cost structure that they're comfortable with. Adi expects that we will see a segmentation of the market that comes down to costs, since this will have a clear impact on the vision of each of these OEMs related to in cabin sensing. "We expect there to be extremes from those that just want the cheapest solution that can check all the NCAP requirement boxes to, how can I make my car unique in a world where actually nobody will care about the engines and the colours and the plastics but only about user experience."  The question is, who will have the vision and the courage to put these innovations on the market? It is likely we will see OEMs start from one extreme or the other and then move towards the middle ground.
What are the important themes that will be discussed at the conference?
As a member of the conference advisory board, Adi shared his thoughts on themes for the conference. It is important to talk about technologies on the machine learning or AI side. For instance, what are the approaches that we believe in?  InCabin will bring together the algorithms, data, platforms, sensors, cloud, and testing on the technical side, and we also hope to consider some philosophical threads. The combination of multiple disciplines is extremely interesting in the in-cabin space. For the car to understand humans, we need to understand humans. To build an artificial intelligence that is capable to go beyond expression recognition towards true emotion identification and understand the occupants cognitive load, their stress level, it's not just about building nice neural networks in the AI, it's about, understanding disciplines that are quite complementary from neuroscience to neurology, and medical engineering to some extent.
What are the questions that you hope InCabin will answer?
Should we define algorithms based on information theory and logic that is more predictable and not implement much added machine learning? What can you fit into a car? Can you put everything in-built into the car? Or can you split it between edge processing versus cloud processing? What are the pluses and minuses for each approach?   It is important to ask how you can make your solutions reliable. Do you need big data with custom algorithms to filter it, do you need a lot of actual driven miles, or do you need specifically tailored data to fit specific use cases? How can you test drowsiness accuracy and overall quality, for instance? Since the reaction to trying to avoid sleep when driving is different to falling asleep in other circumstances and you cannot really ask people to go to sleep while driving and so it's very complex and this is only one example.   We don't know if we'll find the answers this year, but we expect InCabin to be a very high-class forum, so maybe the InCabin Community has some ideas.
If you like what you read, join us in Phoenix this March to find out more about Automotive interior intelligence.