The automotive industry is at the cusp of a revolution, and InCabin, in conjunction with AutoSens Detroit, is set to showcase the innovations poised to transform our driving experience. As the conference prepares to open its doors from May 21-23, 2024, in Detroit, we are proud to announce our first keynote speaker, a pioneer in the field of in-cabin technology.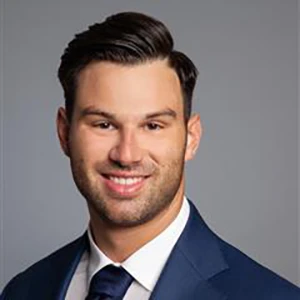 Keynote Speaker
Patrick Laufer
Development Engineer for In-Cabin Monitoring Technologies at IAV

We are proud to introduce Patrick Laufer, a visionary Development Engineer for In-Cabin Monitoring Technologies at IAV, as our keynote speaker. Patrick is a driving force in blending artificial intelligence with vehicle occupant safety, leading the industry into a new era of automotive experience. 
At InCabin 2024, he will unveil how his leading-edge research translates into safer, smarter, and more intuitive in-cabin experiences.
Innovations in Occupant Classification and Safety Systems
Patrick's research encompasses the development of sophisticated algorithms for precise occupant classification. This involves the use of deep learning techniques to accurately identify and categorize occupants based on factors like size, position, and even potential medical conditions. This classification is crucial for optimizing airbag deployment and other safety mechanisms in the event of an accident. 
Sensor Fusion and Environmental Awareness
Another key area of Patrick's work is the integration of sensor fusion technology in cabin monitoring. This involves combining data from multiple sensors – including cameras, LIDAR, and ultrasonic sensors – to create a comprehensive and dynamic model of the cabin environment. This model is essential for advanced features like adaptive climate control, personalized infotainment systems, and even driver health monitoring. 
Cognitive Load and Driver Assistance
Understanding and managing the driver's cognitive load is a significant aspect of Patrick's work. By utilizing eye-tracking technology and physiological data analysis, he aims to assess driver alertness and stress levels. This information is then used to optimize the Human-Machine Interface (HMI), ensuring that the vehicle provides support when the driver is under high cognitive load, such as through adaptive cruise control, lane-keeping assistance, or even suggesting breaks on long journeys. 
Enhancing User Experience through AI
Artificial intelligence also plays a central role in enhancing the in-cabin experience. Patrick's developments in AI focus on learning user preferences and behaviors over time, leading to a more intuitive and responsive vehicle environment. This includes automatic adjustment of seating, lighting, and media based on individual occupant profiles.
Integration with Vehicle Systems
A crucial aspect of Patrick's work is ensuring seamless integration of these technologies with existing vehicle systems. This includes adhering to industry standards and protocols, ensuring interoperability, and maintaining a focus on scalability for future advancements.
The Future of In-Cabin Technology at

InCabin

2024

 
InCabin Conference, 2024 is more than just a conference; it's a gathering of minds dedicated to driving forward the future of automotive technology. It's a chance to engage with industry experts like Patrick Laufer and delve into discussions that will define the next wave of automotive innovation. 
We invite submissions for papers now. This is your opportunity to present your research, case studies, and technological advancements alongside industry leaders. Share your insights and be a part of the dialogue that's shaping the future of the automotive industry. Submissions close on 20th Dec – Dont miss out!
Stay tuned as we release more details about the conference schedule, additional speakers, and panel topics. Detroit awaits your presence at what is shaping up to be a landmark event in automotive excellence.